Want to get your festival on this Europe summer? Check these out
Share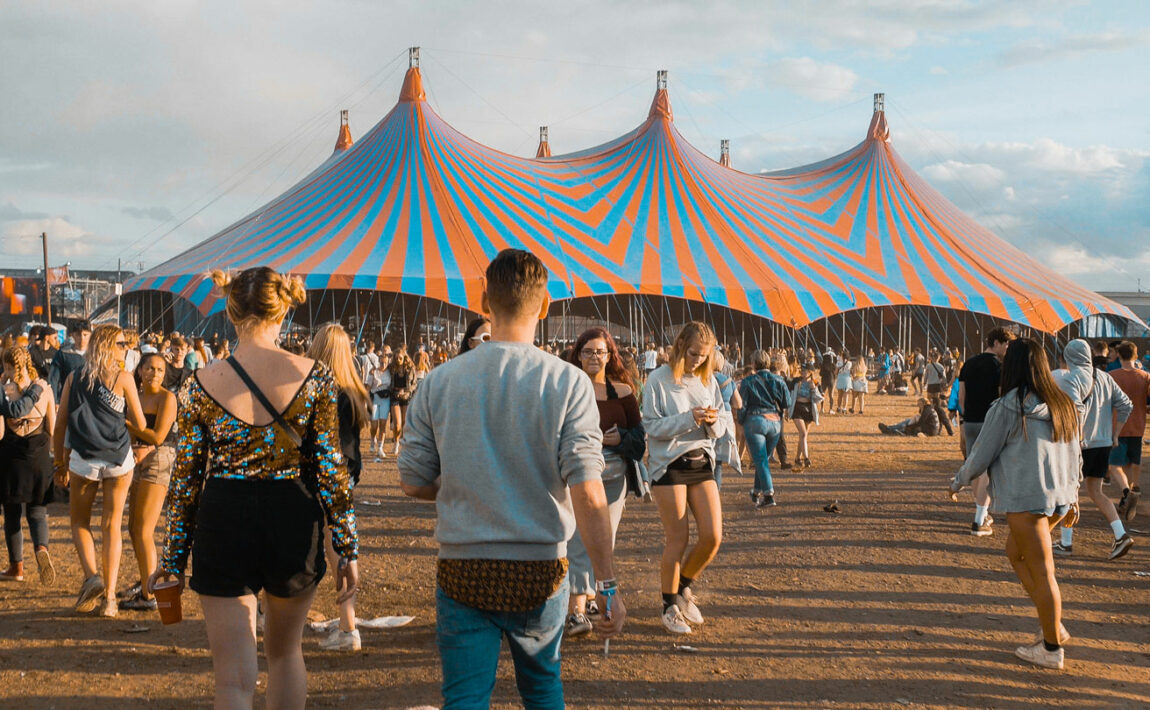 What's better than heading to Europe for summer? Heading to Europe for summer AND going to an epic music festival! The best music festivals in Europe and the United Kingdom are ready and waiting to be discovered, and the best news is you can either do a music festival with Contiki, or line one up perfectly for when your trip starts or ends! Here's a handy guide for music festivals in Europe.
Tomorrowland, Belgium
Held in the aptly named Belgium town of Boom, Tomorrowland is one of the world's biggest festivals, showcasing the best electronic dance music the world has on offer. It's often a sell out, which is no surprise with it's epic stage sets and line ups featuring big names like Steve Aoki, Tiësto, Bebe Rexha and Martin Garrix. 
Tomorrowland usually runs over two weekends which means there's even more options to experience the magic! The festival is easily accessible by train from London, Paris or Amsterdam, so any Contiki trip that finishes there is an easy link to the festival.
https://www.instagram.com/p/Bzngv46APbm/
Reading Festival, United Kingdom
The longest running festival still in existence, Reading is one of the most iconic music festivals in the world. This is where Nirvana played their first ever UK show, where the Arctic Monkeys announced themselves to the world with a bang in 2005 and where the Libertines famously reformed in 2010. With multiple stages for every musical quirk and curiosity, in 2019 you can enjoy legendary rockers the Foo Fighters, the wondrous Post Malone and the hottest band of the year, The 1975.
Contiki can take you there with Contiki Sounds! We have a 7 day Reading Festival trip and a 10 day Reading festival trip that will take you through the UK to unearth it's rich music heritage, before arriving at Reading and experiencing the festival with your Contiki crew at your own campsite.
https://www.instagram.com/p/Bx-Q3cRl84d/
Ultra Europe, Croatia
A worthy successor of the original Ultra from Miami, Ultra Europe continues the dance fever outside of America showcasing the biggest DJs in the world. The 2019 line-up will see the likes of Swedish House Mafia and David Guetta taking to the stage in the festivals current home in Split, Croatia. 
Why not take your Croatia sail trip with Contiki to the next level by lining it up with Ultra? July (when the festival is usually held) is a very popular month to sail and there are numerous boats and departures that will be able to line up with finishing or starting after Ultra Europe such as Croatia Island Escape and Croatia Island Hopper.
https://www.instagram.com/p/Bz6_kSuA7Gx/
Sziget Festival, Hungary
Music, art, performances and forest vibes – that's Sziget! This festival takes over Budapest's Island of Freedom to bring you the best of the best music acts. 2019 sees huge names like Ed Sheeran, Florence and the Machine, Macklemore, Martin Garrix and Twenty One Pilots. 
Contiki can take you to Sziget! Travel from Berlin to Budapest over 10 days to really light up the experience. Get the party started in Berlin a few days early, making stops to explore Prague & Vienna before making tracks for Hungary and rocking out at Sziget.
https://www.instagram.com/p/Bx-QWS6jQQ5/
Hideout Festival, Croatia
A big name in the electronic music festival scene, Hideout festival is a jammed pack 5 days located on the stunning Zrce beach in Croatia with over 150 artists for 2019 and it's probably only going to get bigger in later years. The line-up includes Alan Fitzpatrick, Holy Goof, Krystal Klear and much more.
Zrce beach is easily accessible by bus to and from Split, with multiple departures each day so any Contiki trip that ends or begins in Split will link up perfectly. Try the Best of the Balkans or Croatia Island Escape.
https://www.instagram.com/p/Bzh9ahxgvp8/
Lovebox Festival, United Kingdom
Lovebox Festival has been around since the early millennium and is back in 2019 in Gunnersbury Park. Electronic, Dance and Hip-Hop music lovers will be able to enjoy this 2-day festival. This year's headliners will include Chance the Rapper, Lizzo, Solange, Giggs and many more faves. 
One of the very best things about Lovebox is that it's SO easy to get to. Just a short train ride through London on the Piccadilly line and you can walk to Gunnersbury Park. Perfect for any traveller or local! Grab a crew at the Contiki Basement and have a fun day out.
https://www.instagram.com/p/Bz351G3H7s-/
Wireless Festival, United Kingdom
Wireless Festival is London's premier urban music festival and the line up is insanely good. 2019 will feature Cardi B. Tyga and Migos and previous years have seen names like DJ Khaled, Chance the Rapper and The Weeknd.  It's truly a UK summer at it's best with 3 days of live music. 
Just head to North London to enjoy this festival by jumping on the Piccadilly Line to Cockfosters and then get off at Finsbury Park. Such a short trip for such epic beats.
https://www.instagram.com/p/BzvmCv-A8rN/
Festival Internacional de Benicàssim, Spain
Festival Internacional de Benicàssim is the festival for everyone! It's a world-renowned multi-genre music festival that takes place every year and has tunes that cater to every taste. Plus, it's in the beautiful coastal town of Benicassim in Spain, which sits pretty in the province of Castelló, on the Costa del Azahar, which is South of Barcelona and North of Valencia and easily accessible by train or bus.  This year's line-up includes Kings of Leon, Lana Del Rey, Fat Boy Slim and The 1975.
Contiki has plenty of departures that line up with the festival (before and after your trip). Check out the dates for the Western Quest, Spain, Morocco & Portugal, Spanish Spree, Mediterranean Quest, Quest to London and Ibiza and Beyond.
https://www.instagram.com/p/BozfrfHliHb/
Glastonbury, United Kingdom
Possibly the UK's most famous music festival and an international bucket list item for many, Glastonbury is only held every two years so the grounds have time to regenerate (they're a super green festival!). It's a right of passage to play here with huge acts like The Cure, Kylie Minogue, Radiohead, The Foo Fighters and Florence and the Machine. There is something for every musical taste!
Held on Worthy Farm outside Glastonbury (the city), you can travel from London on the train or stay in gorgeous English city Bath to be a bit closer.
https://www.instagram.com/p/BzXhv-BJTgk/
Roskilde Festival, Denmark
Roskilde Festival is the largest music festival in Northern Europe and is actually a not-for-profit initiative that supports music and culture. The festival originally had a hippie vibe but has since expanded to include  every music genre from rock, pop, electronic, reggae and hip hop. Around 130,000 attendees flock there every year to see killer line ups featuring Eminem, Stormzy, The Rolling Stones, Cardi B and even Bruce Springsteen.  
Festival attendees can stay in Roskilde of course, but trains run straight from Copenhagen Central Station to Roskilde Station on festival days and only take about 30 minutes so getting there is easy if you're based in the capital. Match it up with the Contiki Scandinavia trip and you've got the best Europe summer on the books.