How does a travel brand tackle the climate change crisis? We ask The Travel Corporation CEO Brett Tollman
Share
What's the future of sustainable travel? How will the world be different after the pandemic? And how does a travel brand offer more conscious and sustainable adventures for its travelers? 
This Earth Month and Earth Day (on 22 April 2020) the theme is climate action and the climate change crisis. So, we sat down with Brett Tollman, CEO of The Travel Corporation (TTC) – the parent company of Contiki – and founder of the not-for-profit TreadRight Foundation, to find out how his family of travel brands are working to make a more positive impact on the planet. 
Travelling more responsibly is now top of the list for many travellers, but what does that really mean to you?
In light of the current pandemic crisis and shutdown, I think conscious and sustainable travel will become more important than ever. Depending on how long this lasts, people will definitely think differently. I think people will be more conscious – not just of hygiene and social distancing now – but also appreciate that trips are very precious and not something to take for granted. More of us will realise that sustainable travel is no longer a choice – we must always consider our impact, wherever we venture. 
The theme for Earth Day (on 22 April 2020) is climate change – what are the ways that TTC is already working to tackle the climate change crisis?
We have and continue to install solar power in many of our offices and properties. We're also working to become carbon neutral before 2030 and hopefully closer to 2025.

Educating our travelers, our team and our partners is vital, and we're always sharing how they can reduce their environmental impact, be more aware and involved in addressing climate change. I always recommend that people check out Paul Hawken's

Project Drawdown

as it's one of the world's leading resources for climate solutions. 

We're working with other industry leaders through a global membership organization many of us belong to (

The World Travel & Tourism Council

) to encourage more companies within our industry to proactively and urgently address climate change within their business.

And we're continuing to address and support as many sustainable development goals as possible. Check out

The Travel Corporation's strategy

.
You founded the TreadRight Foundation, a not-for-profit organization, just over a decade ago. How does this help to make a positive difference?
TreadRight partners with leading responsible tourism and sustainable travel organizations all around the world to support community projects. I founded the TreadRight Foundation with one clear purpose, and that was to Make Travel Matter – ensuring our travels help make a positive impact to People, Planet and Wildlife. 
To do all this means giving back to the communities we visit and work with. That means being respectful of our planet and not wasteful of its precious resources; ensuring no animal cruelty is involved in anything we do – and it means doing it out of our pocket. Put simply, people pay us for their trips and we use some of those profits to fund TreadRight.
How does TreadRight work?
All of the brands within TTC make an annual contribution to TreadRight and those funds are then managed and overseen by a group of directors: TTC Executive Dave Hosking, our Treadright Head Shannon Guihan, long-standing ambassador Céline Costeau, industry advocate Anita Mendiratta, world-renowned sustainability expert and National Geographic writer Costas Christ, and myself.
We all source projects and agree together which ones to get involved in next – usually they're projects that align with our brands so that our travelers can experience them too. For example, travelers can meet Guiditta in her handweaving workshop in Perugia, all the women of Iraq Al-Amir Women's Cooperative in Jordan, or even the elephants rehabilitated by SOS India.
Which Treadright sustainable tourism project is closest to your heart?
I have two: the cooperative in Iraq Al-Amir and the Anatolian Shepherd Dogs near our beloved Bushmans Kloof. I was very involved in both of them. I visited Iraq Al-Amir a couple of years ago on a tourism mission. When visiting South Africa several years ago, I was fascinated by how these Anatolian shepherd dogs are acting as livestock guardians to help support local farmers and the native cheetahs! 
Does the Contiki Cares initiative echo the same mission of making our travel matter?
Yes, Contiki Cares helps to support the communities where we take our Contiki travelers and is also our platform for sharing these amazing stories and projects. Check out the cotton-top tamarin project that Contiki supports in Colombia.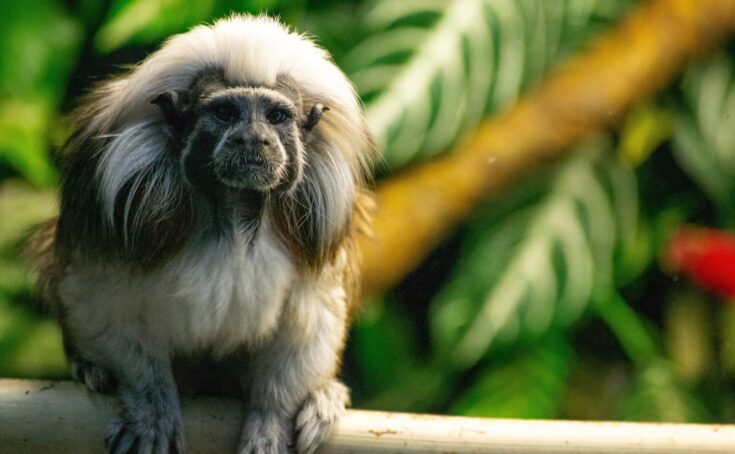 Image source:TreadRight
What's your key advice for travellers who want to travel more sustainably?
If you're looking to travel more sustainably, I'd suggest researching the brands you're planning to travel with and the experiences or projects that you might visit along the way. For example, Contiki is linked to the TreadRight Foundation's projects, which in turn gives back in numerous ways to help protect and preserve our planet through the climate change crisis, its communities, and the wildlife that still roams our fragile planet.
I truly believe that traveling with Contiki is one way to travel more responsibly and sustainably. Contiki actively works to reduce its environmental impact both on trips and where we work. We're working to become carbon neutral in the next few years, and we've already removed single-use plastics wherever we can. 
As the CEO of a travel company, what are the biggest challenges when creating a more sustainable business?
One challenge is getting our global team to understand and embrace our mission, and realise that we're all in this together. However, on lots of our trips across our brands, we use many third parties or flights, hotels, transport and activities, so probably the biggest challenge is to get them all on board with our journey. Educating our travellers is also so important, and we're doing more and more, working with amazing storytellers such as our ambassadors, Céline Costeau, Sarain Fox and Ami Vitale.
What's your advice for future change makers?
We have one planet. If we want future generations to survive, we all need to refuse, reduce, reuse and recycle. It's like taking your vote in national elections seriously – we all have a voice, we all have a place on this earth, we all need to be responsible and accountable for our own actions or inactions, especially when it comes to the climate change crisis.
View this post on Instagram
I also think one of the first steps to instilling change is to get more involved in your local community. Without community on a global and local level, we wouldn't get anything meaningful done, and there is so much to get done! Communities can put pressure and bring awareness to governments to make much-needed change; communities can work together to improve the quality of life of individuals; and communities can affect change to restore and protect our earth.