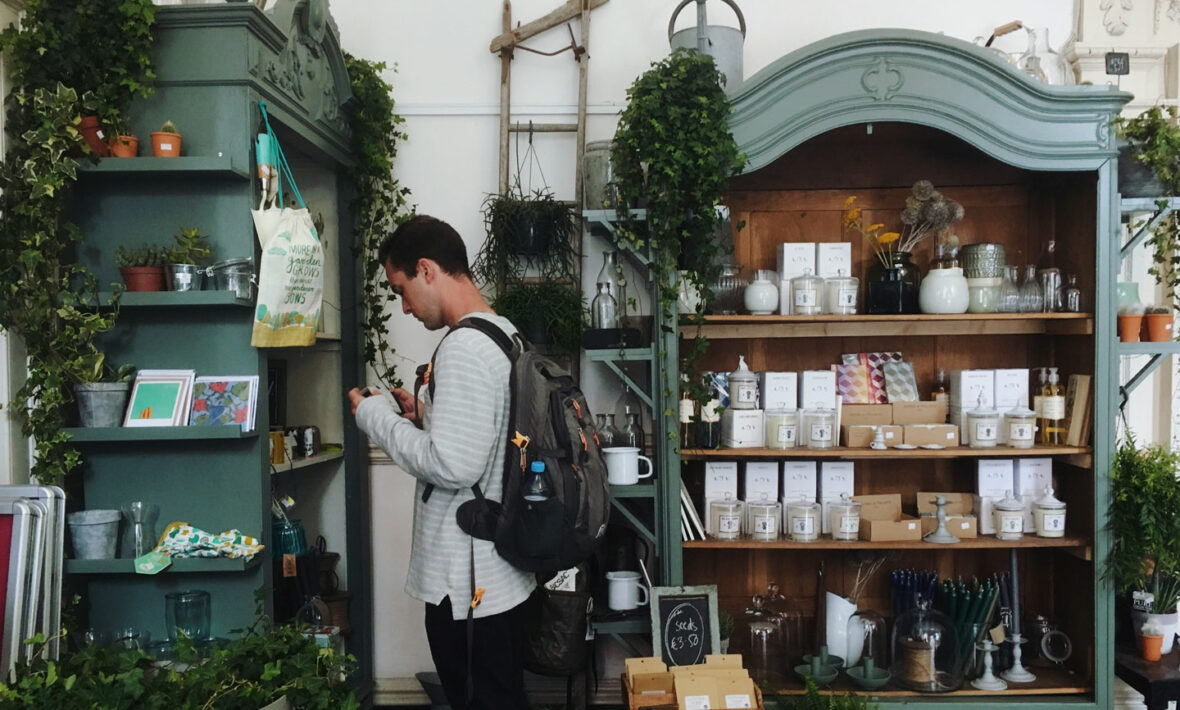 As the old saying goes, travellers should 'take nothing but photographs, and leave nothing but footprints'. This motto clearly resonates with many travellers around the world as eco-friendly travel becomes increasingly popular, whether that be through the availability of zero-waste toiletries, carbon offsetting, an increase in veganism, campaigns to reduce plastic waste or the construction of eco-friendly accommodation.
But what happens when, despite your zero-waste efforts, you still want a cool, eco-friendly travel souvenir to take home with you? Eventually, memories fade, Instagram Stories disappear, and you want a physical reminder of an awesome trip you had, something you can keep forever.
Souvenirs are everywhere when travelling through any city or town, and somehow, they seem to be the same in every place you go. Keyrings, fridge magnets, mass-produced clothing, shot glasses, lighters, tea towels or bottle openers. But I know when I'm on holiday, in a good mood with my inhibitions lowered and spending money in my hand, that tacky plastic shot glass with 'I <3 POLSKA' emblazoned across the front seems like a must-have purchase in the moment.
But how can I justify buying anything to take back with me if I want to do good for the environment? Well, not all souvenirs are made equal. Here's a list of some eco-friendly souvenir ideas so you can come back from your next trip with some amazing keepsakes and a clear conscience. And while some of these souvenirs might cost a little more than cliché mass-produced ones, they make sure that you are caring for the environment and looking after locals too.
1. Local Food
Food, glorious food! Although some countries like Australia have strict customs restrictions, there are still plenty of delicious food items that make great souvenirs. Just be sure to check the laws around bringing food in and out of the country before visiting your destination.
Food is a great souvenir option for the eco-conscious traveller as it is something you will use up when you get home and often comes in recyclable packagings such as glass or cardboard. Think chocolate, coffee, tea, spices, preserves, honey, cheese, wine and liqueurs! Yum.
2. Local Art
One of my favourite things to pick up when I'm travelling is a local piece of art. You do have to be careful that you are buying something authentic rather than a mass-produced copy, but if you look in the right places you can be sure to find some gems. A quick ten-minute google search can usually point you in the direction of a local art gallery or craft shop, whatever city you may be in. If paintings or prints aren't your thing, you can also invest in stunning home decor like ceramics from Positano or textiles from Marrakech. Local art can be such a unique souvenir and they usually have a relatively low impact on the environment. Plus, a big bonus is that you know the money is going to back into the local economy!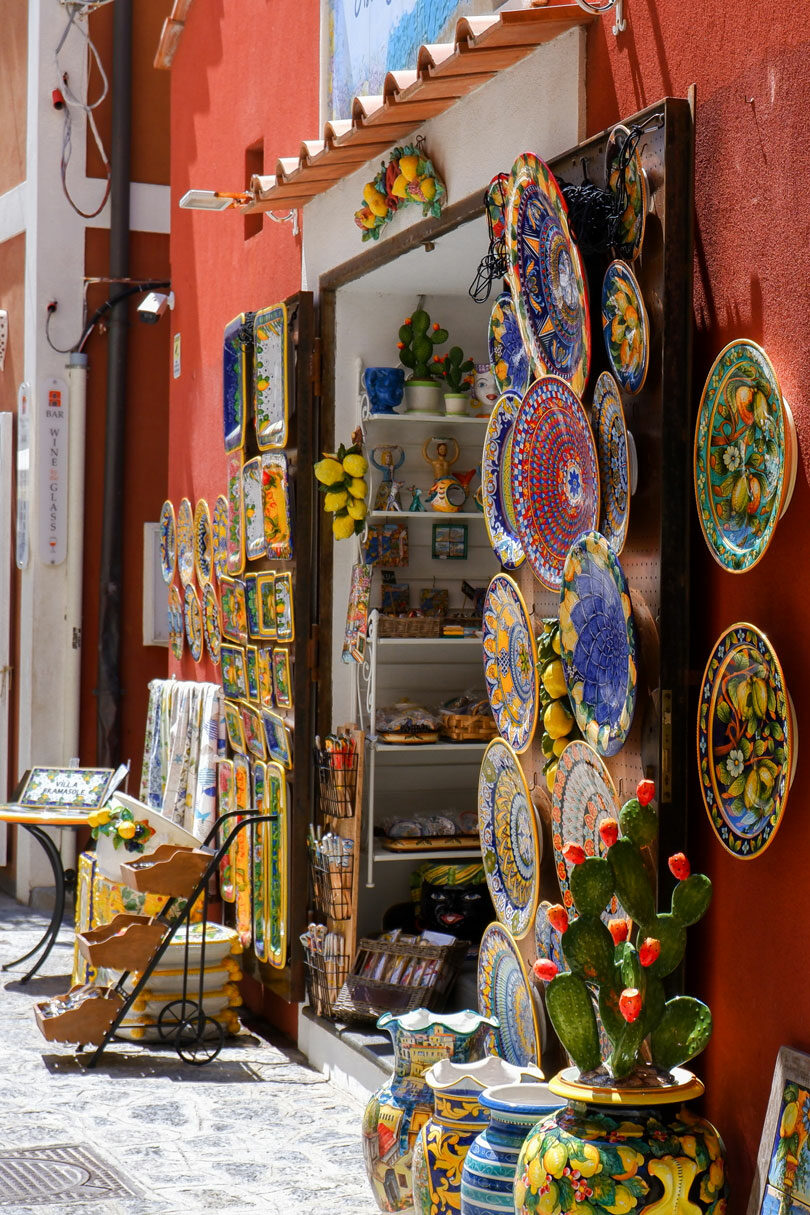 Image source:Antonio Sessa / Unsplash
3. Postcard
Ah, the trusty old postcard. Postcards are great because they are easy to find as a tourist, are plastic-free and completely biodegradable. Plus, they take up next to no room in your luggage. They can also double as a creative and original way of making a travel journal. If you are on a long trip, in each city you visit buy a postcard, write a message to yourself and mail it home. When you return you can relive the good memories reading through all the messages you have sent yourself, and have a personalised memento you have of your trip.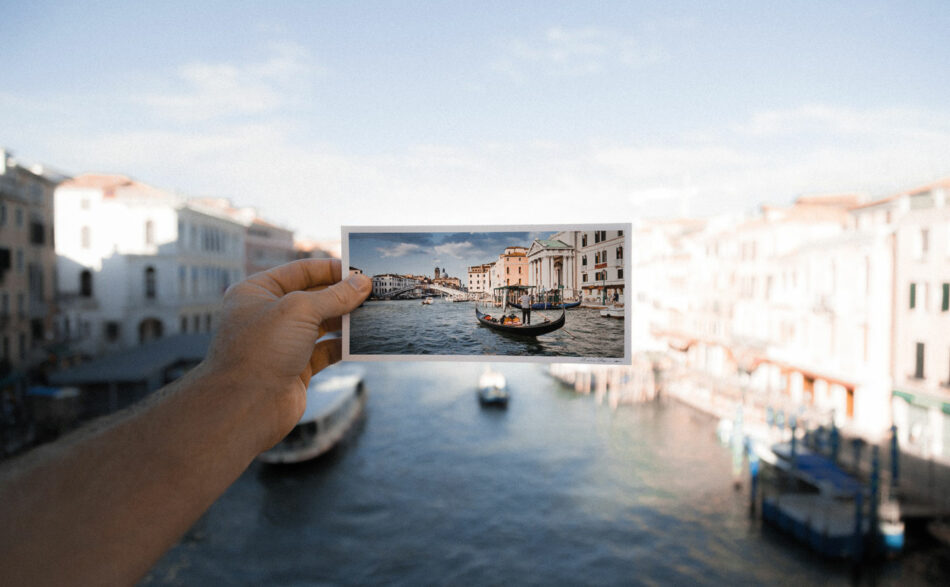 Image source:Jakob Owens / Unsplash
4. Natural Fibre & Eco-Friendly Clothing
Buying clothes or textiles can be a great souvenir that doesn't cost the earth. For example, when I was in Peru I bought an Alpaca wool scarf from a community weaving collective, where local women raised the alpacas, spun and dyed the wool, and wove the scarves themselves. This is a great example of 'slow' fashion that is a lot more sustainable than tacky mass-produced clothing you might find in a souvenir shop on the main street of a city. Slow fashion is great because it uses less energy and resources to make, has fewer air miles, and usually, a bigger percentage of the profits go directly to the local producers.
But being eco-friendly doesn't mean missing out on the classic travel souvenirs like t-shirts or hoodies. Organisations like Teemill make clothing with certified organic cotton and print-on-demand technology powered by renewable energy. Contiki recently launched a collection with them, making it easier than ever to have a classic cityscape t-shirt or tote bag, with really cool designs, from a sustainable brand. Check them out here.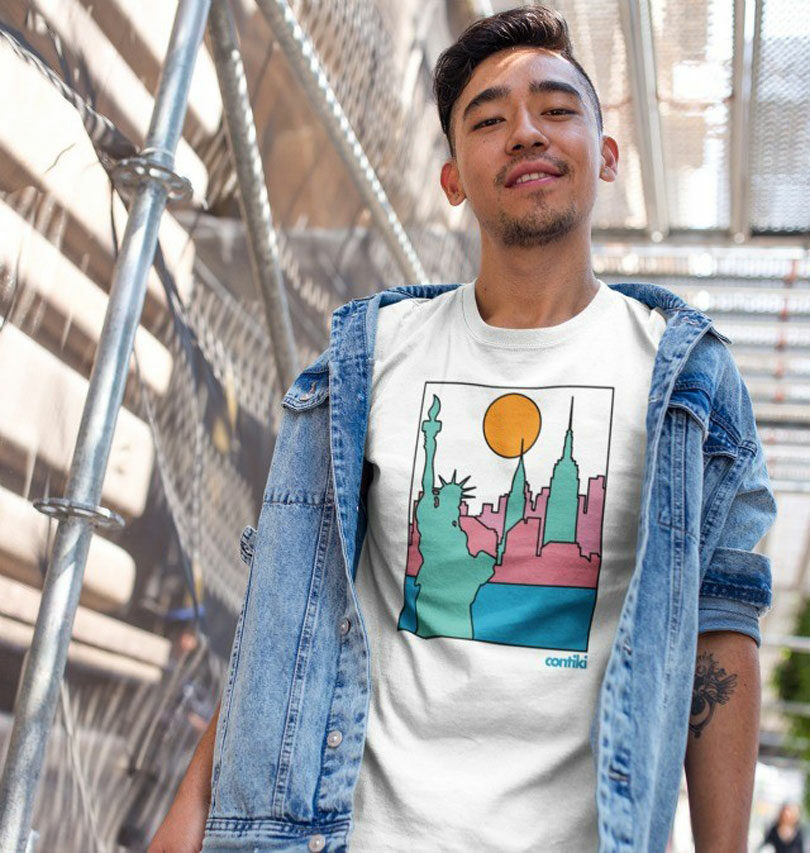 Image source:Contiki x Teemill
5. A piercing or tattoo
Body modification may be taking the concept of a souvenir a little too far for some, but a tattoo or piercing is a great idea for a lasting, low-waste reminder of a trip of a lifetime. In fact, all the tattoos I have today I have gotten when I was on holiday. Just make sure you do your research before just walking into any tattoo parlour off the street. A nasty infection, or worse, a bloodborne disease is not a souvenir you want to be bringing back with you.
Sorry mum!
6. Books
Local bookstores can be magical places to visit, wherever in the world you are. A book is a great souvenir because you aren't spending money on mass-produced plastic, and it can also come in handy as entertainment on long bus journeys when you don't have reliable internet access. Most bookshops in major cities or towns stock at least some selection of English language books, and aside from fiction books, I'd recommend a local cookbook as a great keepsake from a special trip.
Image source:Yonghyun Lee / Unsplash