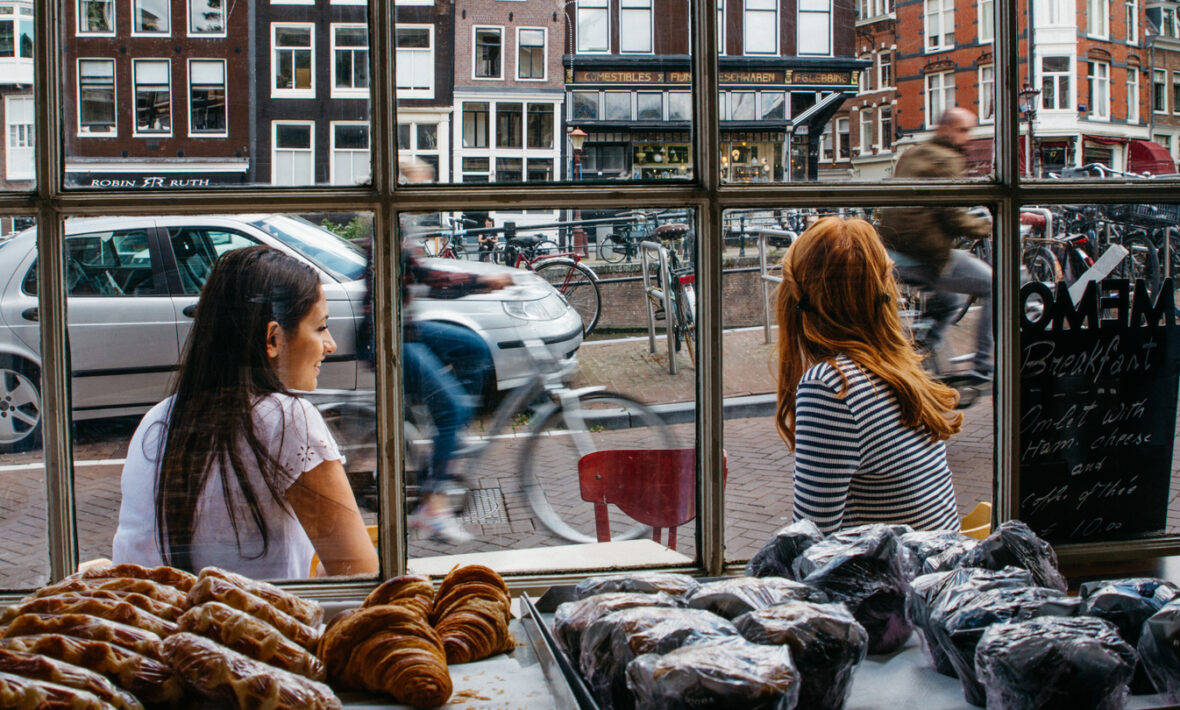 Already excited about Euro summer 2024 and other amazing getaways? Looking to maximise your amount of days off? Well, we've got the solution for you. Check out our list below of UK bank holidays in 2024 and find out how to make your annual leave work for you.
Don't worry, we've done all the finicky maths and calculations for you, so all you have to do is use the Annual Leave calculator below, and read on for some special tips on exactly when, and even where, you should go!
January – make some moves
The first of the year falls on a Monday, giving you a lovely 3 day weekend for free! No better way to start 2024 than by enjoying a little holiday getaway – why not escape to Paris or Amsterdam for New Years and extend that festive season just a little longer?
Or, get cosy and warm and start planning the rest of your escapades. With 53 days there's a lot you can do… Plus, early bird gets the worm, and January is the one of the best times to take advantage of some crazy deals and book your flights all over the world! Can't you hear it? The beaches of Greece and Australia and the nightlife of South Korea and New York are all calling you.
See below for an example of your bank holidays and weekend extenders so you can fully abuse the system.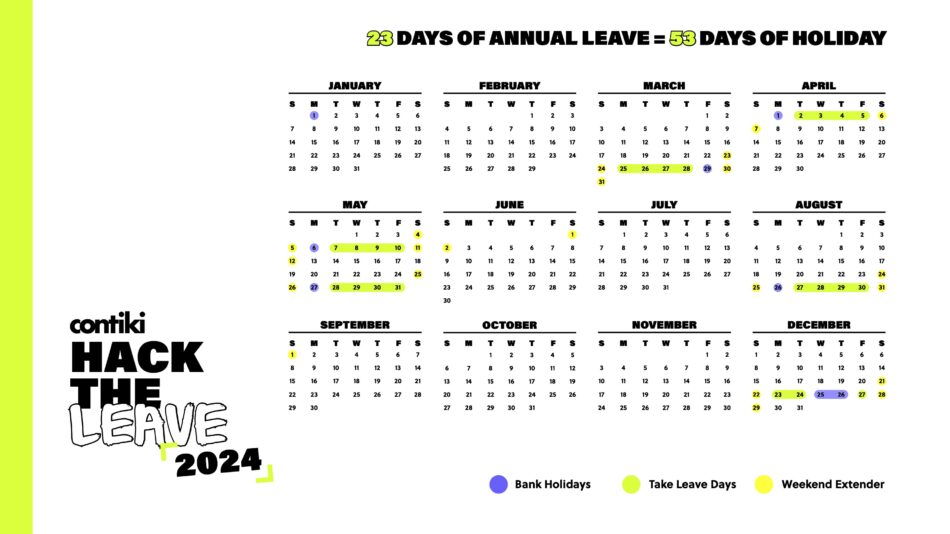 March & April – Easter
Whether you actually celebrate Easter or not, this is THE jackpot of bank holidays, and you can bag yourself a whopping 16 days off with only 8 days of annual leave!
Good Friday falls on Friday 29th of March, and Easter Monday is the 1st of April, so these are the days you'll have to take off:
Monday, 25th March
Tuesday, 26th March
Wednesday, 27th March
Thursday, 28th March
Tuesday, 2nd April
Wednesday, 3rd April
Thursday, 4th April
Friday, April
And you'll have 3 sets of weekends free!
We recommend taking a trip to Japan during this time for a chance to revel in the beautiful and delicate cherry blossom season! Or maybe take the holiday up a notch and do some trekking up to Machu Picchu in Peru before the weather gets too hot to hike.
Lucky for you, Good Friday and Easter Monday are practically a given in all the Western world, so these 2 weeks might just be the perfect time for a little reunion between Contiki friends…? Wherever you are in the world, meet somewhere in the middle – maybe Thailand? – to relive some joys and make brand new memories.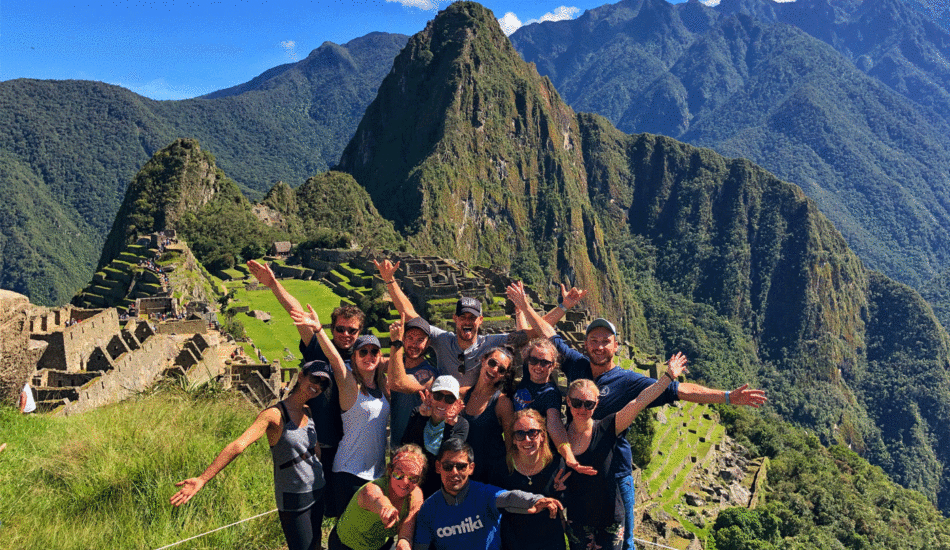 Image source:Contiki
May – lazy days
The sweetest month, May, comes at the peak of spring when all the pretty flowers are out and the air feels warm, and just at the start of summer. It's the perfect time to indulge in some lazy days under the sun, relaxing before those big busy summer breaks. And there are two bank holidays in May giving you just this opportunity!
The first is Monday 6th of May, which makes the Early May bank holiday, and the second is the 27th of May for the Spring bank holiday. Just like for Easter, you can take 8 days of annual leave off to collect a total of 16 days of holiday this month.
Tuesday, 7th May
Wednesday, 8th May
Thursday, 9th May
Friday, 10th May
&
Tuesday, 28th May
Wednesday 29th May
Thursday, 30th May
Friday, 31st May
And don't forget your weekend extenders on either side!
Maybe a lush stay-cation up in Scotland is what you need for some total relaxation. Or get ahead of the crowds and explore the Croatian Coast by boat.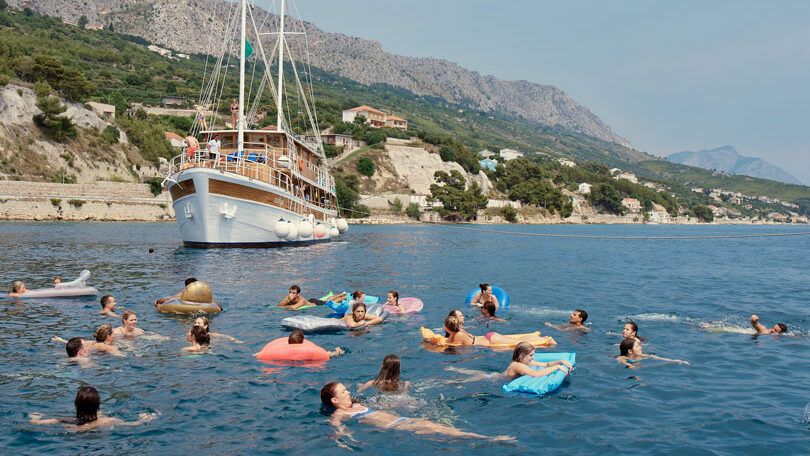 Image source:Contiki
August – last summer rays
The late summer bank holiday this year falls on Monday the 26th of August – just in time to bask in the glory of summer before wrapping up for cosy autumn. Off-season is one of the best times to travel, and with this bank holiday being right at the end of the month, you fall right in that category.
Take the following days off so you can take a lovely 9 days off to catch those final golden rays!
Tuesday, 27th August
Wednesday, 28th August
Thursday, 29th August
Friday, 30th August
And the weekends on both sides!
We recommend making the most of off-peak and packing in a few fan favourite countries for you to explore tourist-free! Maybe the London to Vienna trail is a good one for you? Beautiful sights, jaw-dropping monuments, and delicious food along the way.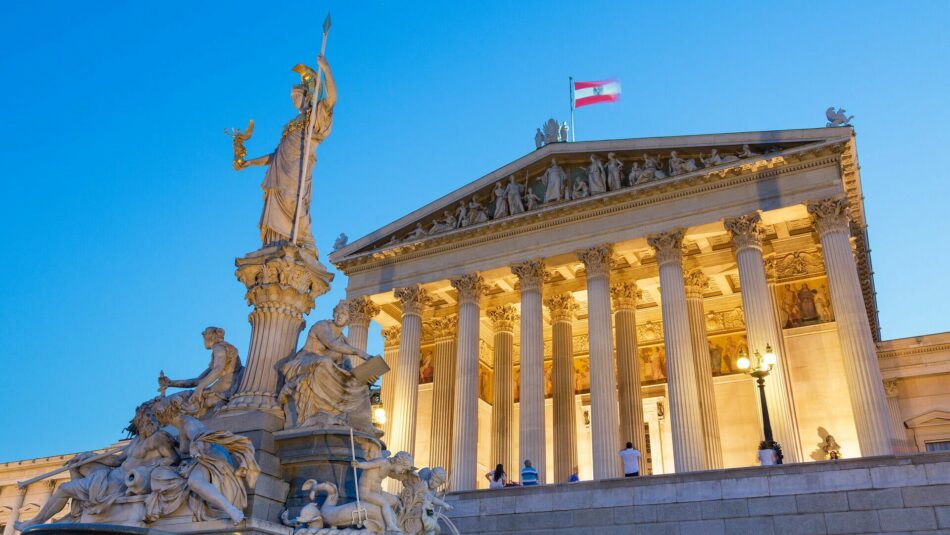 Image source:Contiki
December – festive fiesta
After all that extra relaxing you've done all year, you deserve to take even more off! Finish what you started, right? So, in December, you'll get the 25th and 26th off for Christmas Day and Boxing Day respectively. These fall on a Wednesday and Thursday this year, so to complete the week and get 9 days of holiday you just need 3 days of annual leave:
Monday, 23rd December
Tuesday, 24th December
Friday, 27th December
These extra days (and the weekends) will allow you to have a stress free Christmas. You'll get to experience the full magic of the festive season complete with mulled wine and hot chocolates, sweet treats, and lots of sparkling garlands and mistletoe. Spend a few evenings in the twinkly bustling Christmas markets of Germany to wrap up your year!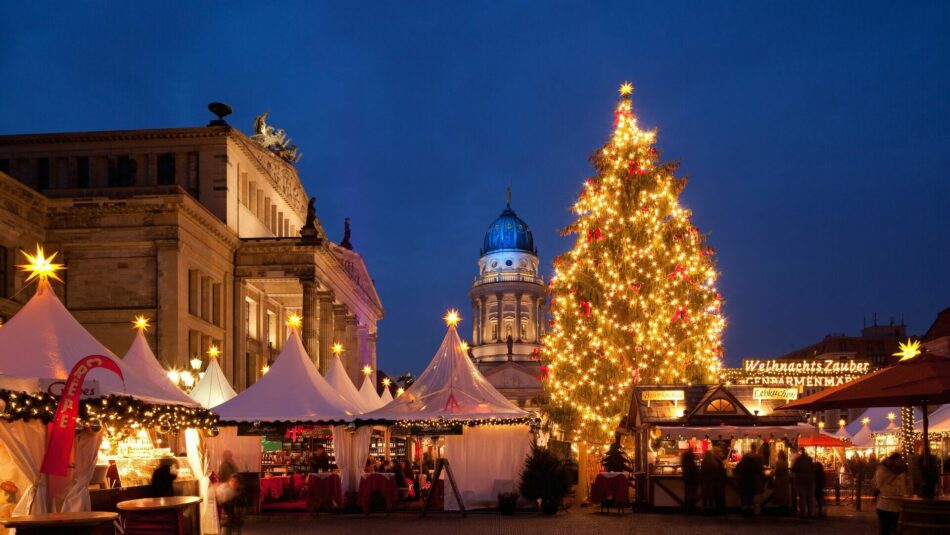 Image source:Contiki
So there you go: this is how you can snag 53 days off in 2024 with only 23 days of annual leave!