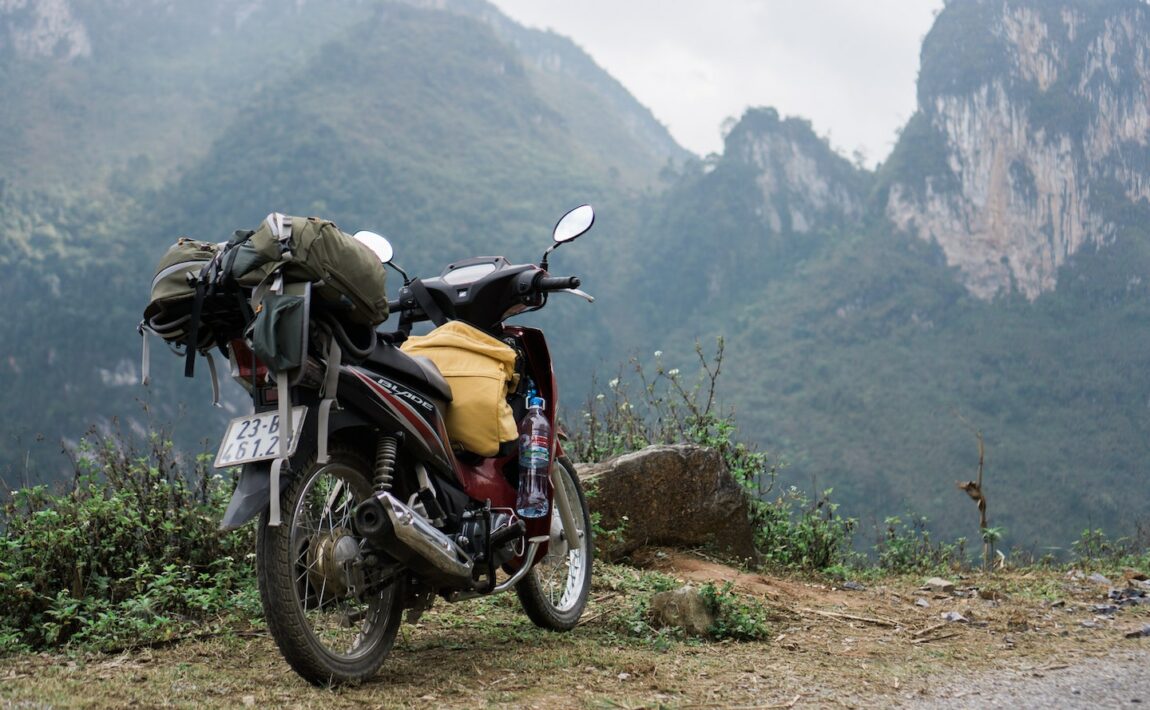 Think Hanoi is north enough? Or maybe even Sapa if you're feeling adventurous. Think again. No scenery in Vietnam (or in my opinion, ever) will parallel the breathtaking views I saw while taking on the Ha Giang Motorbike Loop. They quite honestly were the best three days of my life travelling through Vietnam's most underdeveloped and mystical landscape, facing so many fears along the way. I didn't even pluck up the courage to agree to it until the day before we set off…
Starting in Saigon and travelling north, I had heard whispers of the fabled loop from those who had started their Vietnam journey at the top. Quite often it was from the ragged haired, wild eyed, motorbike-riding types who could not shut up about it. Now, looking back, I can't blame them. In fact, I almost feel sorry for them. Don't get me wrong, the rest of Vietnam is pretty amazing, but anything after the Ha Giang Motorbike Loop must have been a tremendous downgrade. Thirsty for your own adventure? Here's what I learnt after making the incredible journey…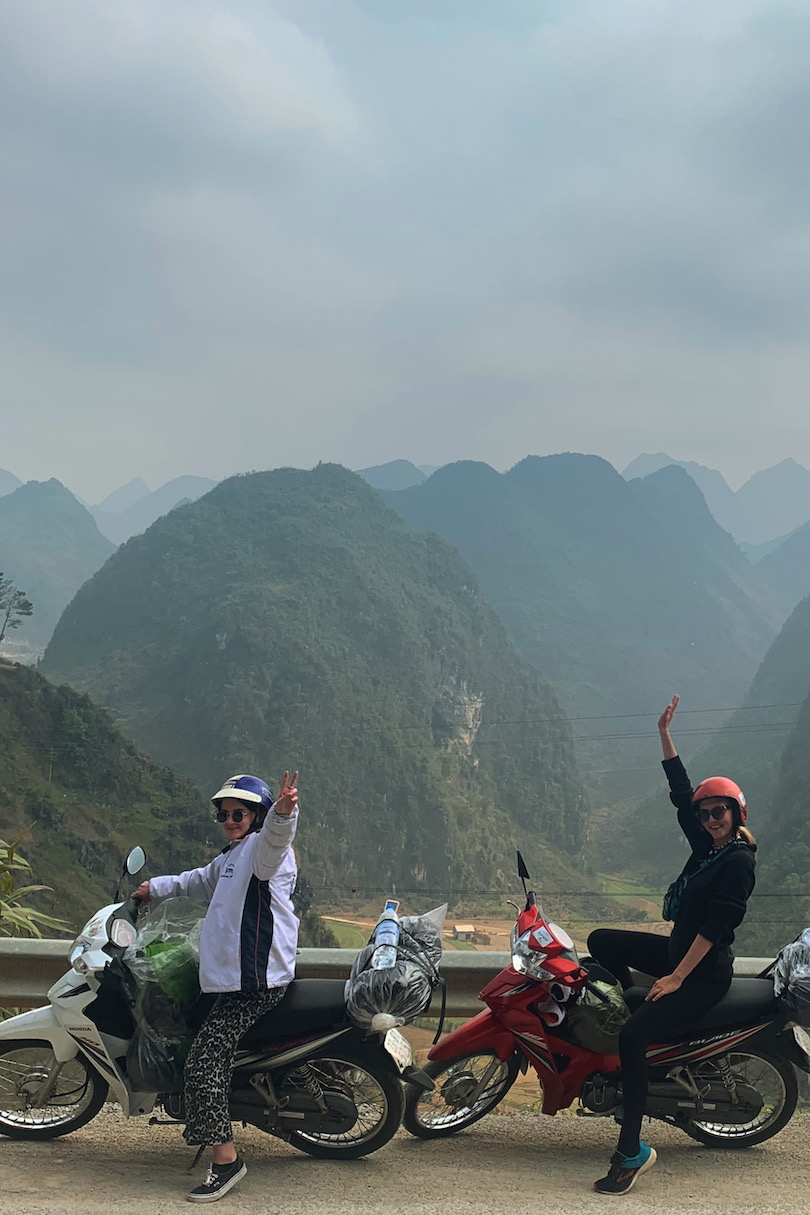 Image source:Izzy Copesake
You don't have to be a motorbike pro
Here is where I really must confess. Despite getting the coolest pictures EVER, posing with a semi-automatic bike as if I'd just completed the 350km journey across narrow cliff faces without breaking a sweat, there was not a chance in hell I was riding alone.
I have a tendency to trip over my own legs while walking, somehow I thought that three days of swooping twists and hairpin bends may have been a step too far. Besides, even if I wanted to, I would have needed an international motorcycle license (that was the standard excuse I tended to give… sounds much cooler than being terrified). Opt for the 'easy rider' option for around $40 extra and get paired with a professional local guide. The guides from the Jasmine Hostel Tour grew up riding the extreme terrain long before the legal age of 16. I'm pretty certain my friendly guide, Tuma, could have done it with his eyes closed. It may even be worth it just to stop your parents from freaking out. 
But if you can ride, there are plenty of options
It suddenly dawned on me that my friends really are a lot cooler than I am. Confident motorbike riders have the choice of properly serviced semi-automatic Yamaha, Honda or Suzuki bikes, good helmets and knee pads. For motorbike enthusiasts, it's a huge achievement to tick off the famed Ha Giang Motorbike Loop from the bucket list… but secretly I knew I was the real winner. As designated photographer, I got to sit back with my music on, take in the spectacular views and attempt to capture some game-changing photos for my friend's Tinder profiles.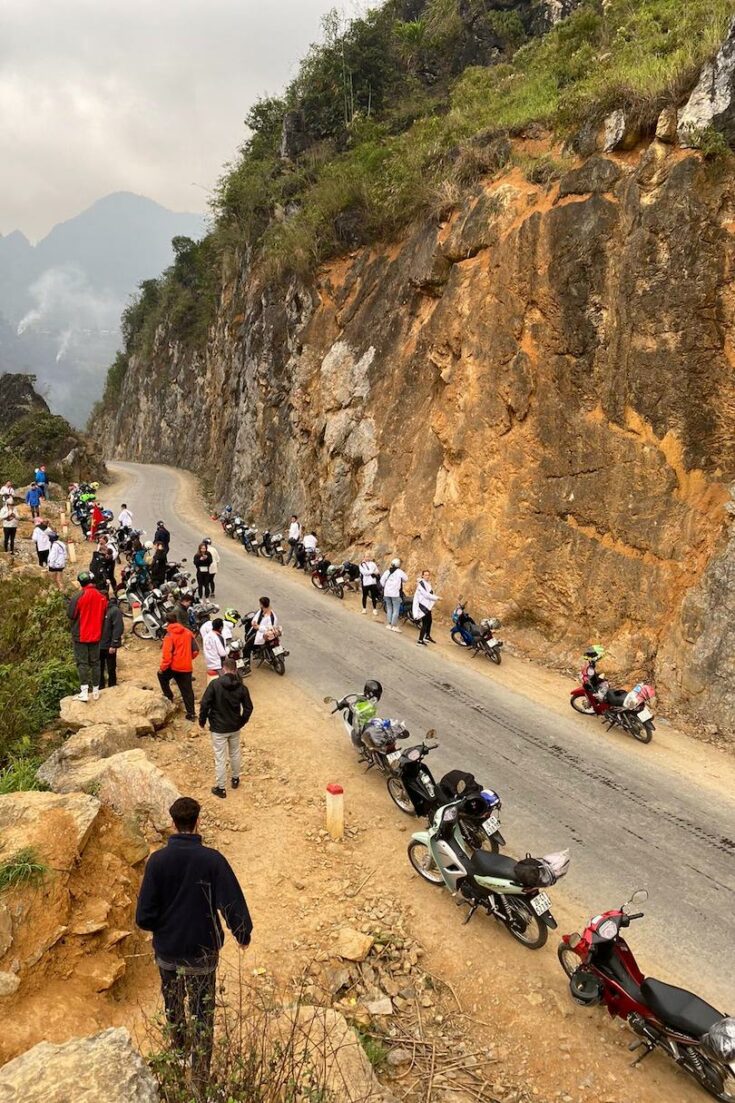 Image source:Izzy Copesake
In true Vietnamese style, the party doesn't stop
Just because you've spent the day hiking and riding just metres away from that 100-metre drop, does not by ANY means justify an early night. As one of the most underdeveloped parts of the country, don't expect to find any rooftop bars or buzzing night clubs, but do prepare for ridiculously cheap beer and intoxicatingly strong rice wine.
Our second homestay of the trip was in a mystical rural valley right next to the Chinese border. After tucking into the family meal of fried rice, spring rolls, noodles and tofu, the carb-induced food coma would be followed by cries of "Môt hai ba dzô!" This is probably the most useful bit of Vietnamese you'll ever learn, meaning: "1, 2, 3 cheers!" Locals follow this with a shot of rice wine. All of a sudden, the quiet homestay in the tranquil valley erupts with life. The campfire is lit, the huge speaker is dragged outside, dancing begins and the games of 'shuttlecock kicking', famous in Southeast Asia, get increasingly competitive as the morning draws closer. Yes, the hangover is horrific, but it's nothing a hot bowl of morning Pho and fresh mountain air can't banish. 
Probably the only chance you'll get to see rural Vietnam, untarnished by tourism
Despite attracting a small number of travellers each year, this part of Vietnam is still essentially untouched. Visiting this most northerly region of Vietnam is like travelling to a land frozen in the past. With almost 90% of the region's population being of ethnic minority, Ha Giang has a uniquely sustained tribal culture. Expect to see young children in brightly coloured traditional dress helping their parents in the field, water oxen loaded up with produce and locals waving to visitors as they whizz past.
Image source:Izzy Copesake
Did I forget to mention the views?
I simply can't stress enough – even on the most cloudy day of our trip – I constantly felt like my eyes weren't wide enough to take in the panorama. Think imposing mountains and valleys deep enough to make your stomach drop. You'll feel the thrill of the mountain wind rushing through your hair as you charge down the beautiful Ma Pi Leng Pass or marvel at the hundreds of rice fields tumbling down into the Meo Vac Valley. To this day, I haven't managed to find a single professionally taken photo that does this place justice. You just need to visit and discover for yourself. I'd say the Ha Giang Motorbike Loop definitely deserves its nickname: 'The Road of Happiness.'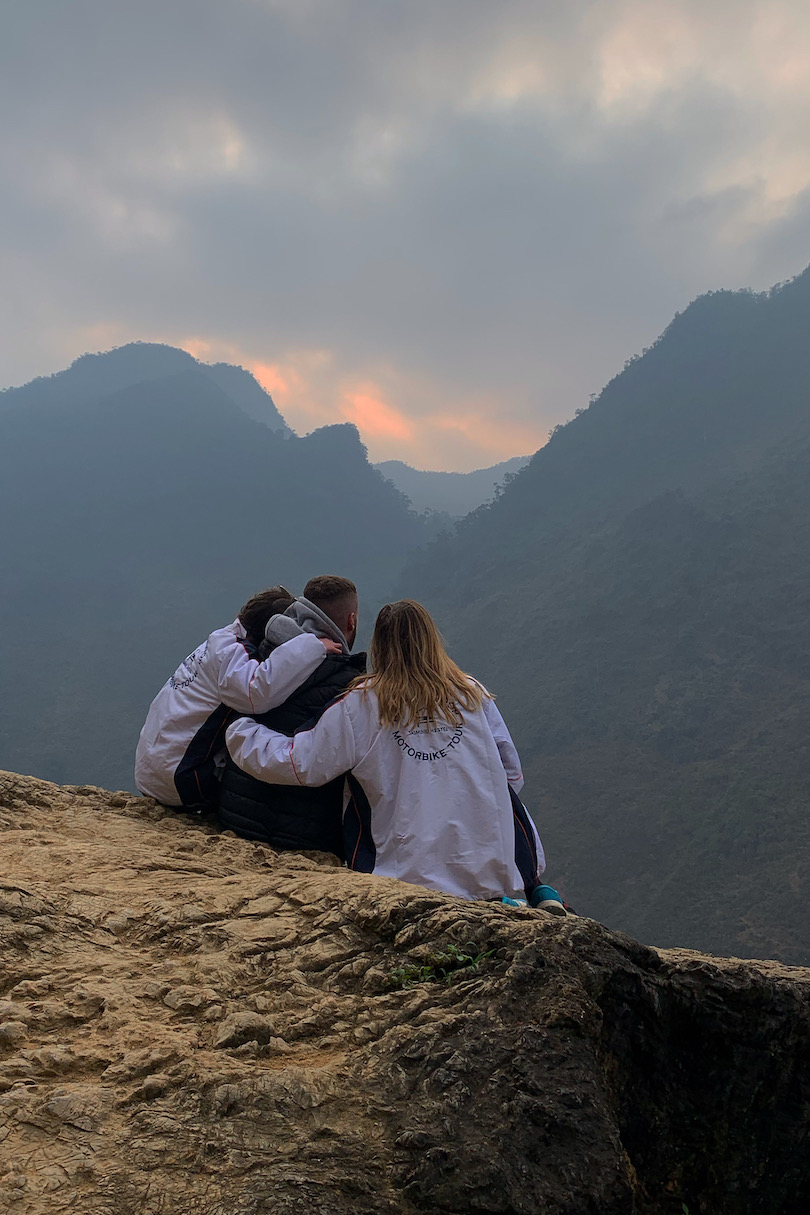 Image source:Izzy Copesake