Contiki reveals its 5-year sustainability goals to help you make your travel matter
Share
"There is no way to travel but consciously" – filmmaker, explorer and TreadRight Foundation ambassador Céline Cousteau
The future of travel is here. If we've learned nothing this year it's that conscious, sustainable and thoughtful travel is the only way. And while plenty of brands are claiming or aiming to do things differently, to make a real impact, you have to put your intentions into action.
That's why we're inviting you to read Contiki's new five-year sustainability plan, How We Tread Right (HWTR). Last year we encouraged all our staff, travellers and partners to stand up and commit to responsible travel as part of our Make Travel Matter mission, and this year we're releasing our plan to outline how we will do just that.
Developed by our parent company The Travel Corporation, our plan maps the efforts Contiki will make alongside our TreadRight Foundation. It is made up of 11 clear goals (tied to the United Nations Sustainable Development Goals) and addresses our impact on the planet, and the people and wildlife who live on it.
Essentially, the plan addresses how we, as a travel brand, will positively contribute to issues such as:
Sustainable food production

Responsible consumption and production including single use plastics

Overtourism

Diversity and inclusion in the workplace and on our trips

Animal welfare
Interested to learn more about Contiki's sustainability goals and how your travels can have a positive impact on the planet and the people and wildlife who live on it? Course you are. Keep reading to learn more about the detailed plan and goals…
Climate change
1.  Achieve carbon neutrality by 2030 or sooner
How?
Increase energy efficiency at our offices and owned properties

Invest in clean, renewable energy sources

Invest in upgrades or retrofits to our vehicles to support low-emission tech

Source and support new and innovative low-impact technologies

Measure the carbon footprint of our trips, with the goal of offsetting these by 2025
2. Source 50% of our electricity from renewable sources by 2025  
How?
Reduce our reliance on fossil fuels and take cues from our Red Carnation Hotel Collection in London who are leading the way by procuring renewable energy for their properties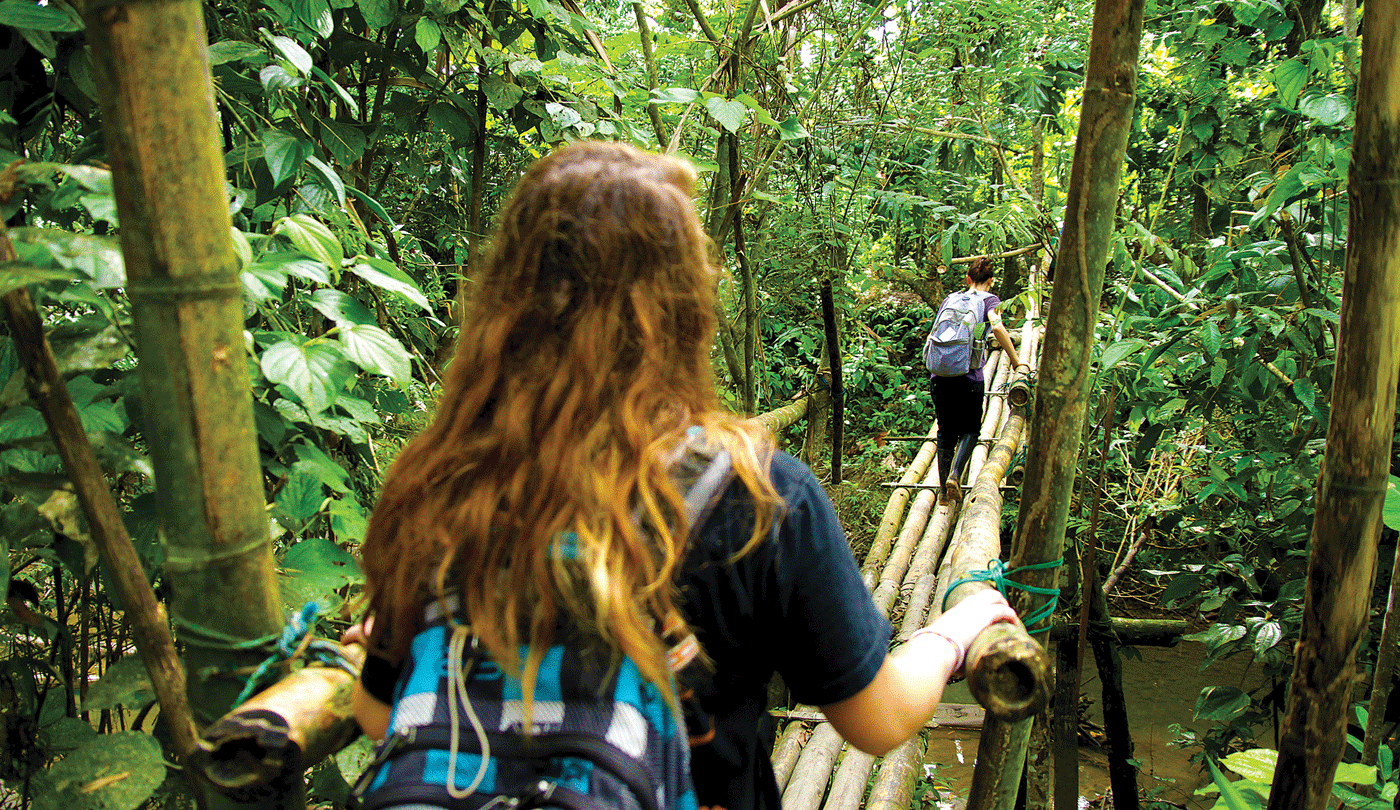 Image source:Contiki Cares
Sustainable food production
3. Reduce food waste by 50% across all hotels and ships by 2025 
How?
4.  Increase use of local and organic food products by our supply chain by 2025
How?
Create a baseline in 2021 of suppliers providing local and organic meals on our trips and set a realistic goal to increase these suppliers.
In order to be considered local or organic, our suppliers must source at least 25% of their menu either locally (any food sourced within 30-50 miles of where it's prepared) or organically (any produce or meat sourced without the use of pesticides or GMOs; or sustainably sourced seafood).
Across our offices in 2021 and onwards, we'll advocate that team members order local and organic food and drinks for meetings and socials.
Responsible consumption and production
5. Reduce printed brochures by 50% by 2025  
How?
Work with our travel partners to reduce printed brochures by 50% and  leverage e-brochures

Move to providing travel documents entirely electronically

   
6. Eliminate single-use plastics from our offices and trips worldwide by 2022
How?
Continue to seek opportunities, identify best practices and address plastic pollution in our oceans and the destinations we visit
Image source:Contiki Cares
Overtourism
 Include at least one Contiki Cares / Make Travel Matter Experience on 50% of all TTC itineraries 
How?
Partner with and offer more travel experiences that are mutually beneficial to the guest and the host
Base our experiences on a set of criteria directly tied to the UN Global Goals, using our Make Travel Matter e-assessment
8. Achieve a 20% increase of itineraries visiting developing destinations for specialist brands by 2025 
How?
Introducing travellers to developing destinations and support a greater spread of tourism income within the destination to combat overtourism
For the purposes of this goal we consider developing destinations to be:

New regions that we haven't been to before
Destinations that have no symptoms of overtourism
Secondary cities or regions that support greater spread of tourism
Diversity and inclusion
9: Increase employee and market sentiment regarding diversity and inclusion at TTC across our brands
Ensure that both internal teams as well as guests and travellers are represented equitably from within the LGBTQ+ and Black, Indigenous and People of Colour communities 
10. Complete 30,000 volunteer hours by 2025
How?
Harness the power of our employees and encourage them to volunteer (during work time) for local charities and causes
Image source:Contiki Cares
Animal welfare
11. Ensure all our wildlife experiences adhere to our Animal Welfare Policy by 2021
How?
Our updated Animal Welfare Policy in cooperation with World Animal Protection is one of the first to use the latest science-based framework for assessing animal welfare. 

TreadRight has assessed the wildlife experiences across all TTC brands to ensure compliance.

Remove all inappropriate wildlife experiences on our trips by 2021
Image source:Contiki Cares
Measuring and reporting the impact
We as a brand will be committed to tracking, measuring and reporting on our impacts. We'll report on our progress towards our HWTR goals through annual Impact Reports, and have established a verifiable reporting structure to allow us to do this. Lastly, we've designated Make Travel Matter teams across the business to identify, solve and report on sustainability issues.
Ready to Make Your Travel Matter? Find out more about our Contiki Cares experiences on trips.